:
Prospective and New Client Orientation every Wednesday
Join us for our 12:00 pm or 6:30 pm session. Family members are welcome, and CART is provided. 
From Doubt to Success
tekela thomas.png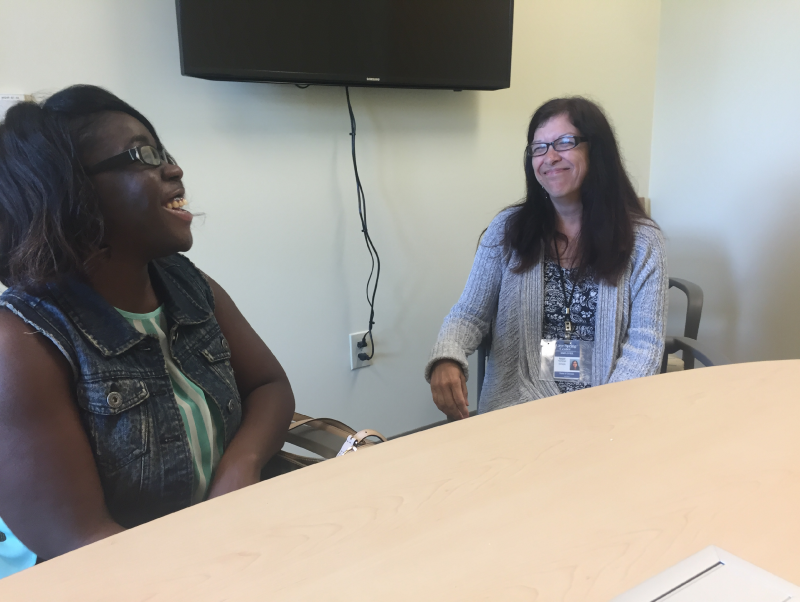 Tekela Thomas started work at the Georgia School for the Deaf in early January this year, and already she's thinking about a career change. Sort of.
During the school year, she worked the third shift, largely making sure everything at night ran smoothly, and none of the students needed any special attention. But her real passion is in interacting with the students, and ever since learning sign language at the Cave Spring Center (CSC) two years ago, she takes every opportunity to teach it to the younger kids at the school. And she plans on talking with her supervisor when school resumes to see if she can switch to second shift, which would afford her the opportunity to further employ her recently-acquired skills.
"I love to sign," she said. "I've taught my sister and my niece and my nephew."
Rewind three years ago, and the prospect of requesting a shift change—much less even having a job at all—seemed like a pipe dream.
"I never felt like I could get a job," Thomas said. "It was just, like, it wasn't going to happen."
Thomas has Usher Syndrome, which affects both her hearing and her sight, and it usually degenerative over time. Early in her diagnosis, Thomas wasn't sure if she could hold down a job, and that's where vocational rehabilitation came in.
Her counselor, Frank Lala, worked with her to help her realize that with a few accommodations, she could certainly work and live independently, and to help her along the way, he recommended she spend time at the Cave Spring Center.
While there, she quickly made friends and adjusted to life at the center, transitioning from a student to an office intern, answering the phone, making copies and doing the appropriate filing. She used a magnifying app on her phone to help her see, and she used a hearing aid to amplify phone conversations.
The key to her success, said Raquel Tarleton, an employability specialist at CSC (pictured on the right with Thomas on the left), is that Thomas was such a strong self advocate.
"Self advocacy really helps in terms of removing barriers," Tarleton said. "You know yourself the best, and you know what you need to succeed."
Her time at CSC, Thomas said, helped her get the skills needed not only to work but to live independently. She recently bought anapartment, and she said she loves to cook.
"I was kind of nervous learning all the skills that I needed," Thomas said. "But I did it, and I'm glad I did."