RWS Class of 2022 Graduates
Eighty-six students from across Georgia graduated from the Roosevelt Warms Springs (RWS) Comprehensive Rehabilitation Center today, taking with them various training to include workplace certifications for current and future jobs.
RWS 2022 Graduation ( 3 p.m. ceremony).png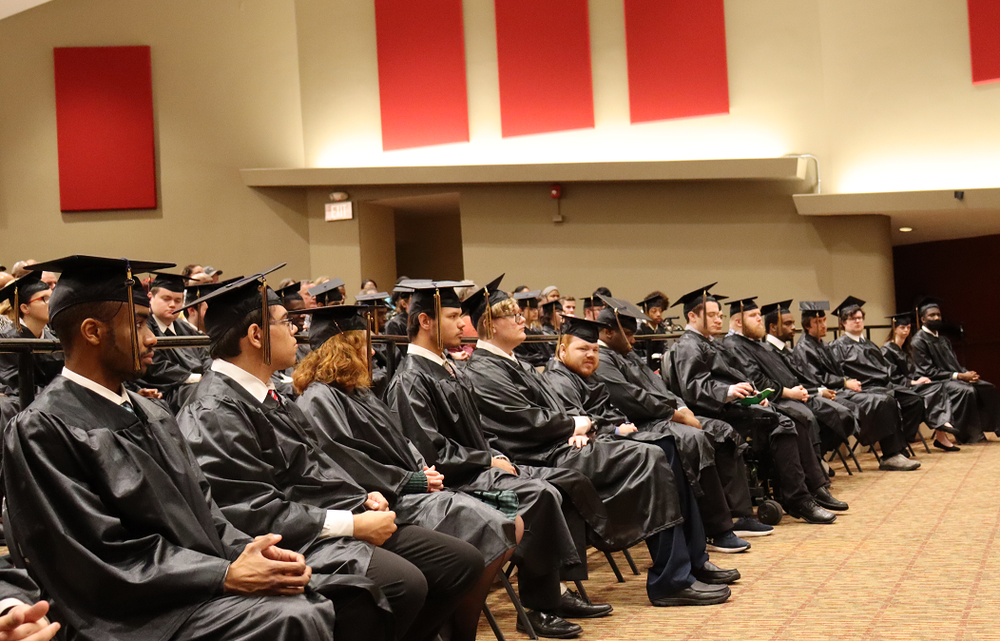 The graduation ceremonies, with students representing 26 cities, were the culmination of 6-9 months of coursework, training, and counseling from a team of instructors and staff based at the historic Warms Springs, Georgia campus. Graduates – all with disabilities –received a combined 467 distinct recognitions in more than 15 areas, including Business Office Management, Forklift and Warehouse Training, 3-D Printing and Design, Horticulture, Low Voltage Wiring, and Robotics Programming. Many have either secured employment or interviews with companies or organizations using the skills obtained at the Center.
"This is an extraordinary day for these graduates who have prepared themselves for independent living and have received or made significant progress toward employment," says Chairman of the Georgia Vocational Rehabilitation Services Board Thomas W. Wilson, noting that many students became employed prior to today's ceremonies. "This graduation and the experience they received here represent the spirit of Warm Springs. This is a proud day for their families and for our Board."
The Roosevelt Warm Springs Comprehensive Rehabilitation Center was founded in 1927 by U.S. President Franklin Delano Roosevelt to treat polio patients.  The Center continues to embrace the tenets of public service, providing continuing education and other services for Georgians with disabilities. It is managed by the Georgia Vocational Rehabilitation Agency (GVRA).
"The staff at our Warm Springs campus provide a supportive and nurturing environment that contributes to the success of every student who enters for rehabilitation or graduates from our programs," says GVRA Executive Director Chris Wells. "Today's graduates have shown tremendous growth, and we are excited for their futures and what they will continue to achieve in their respective communities."
Students participating in today's ceremonies (at 10 a.m. or 3 p.m.), along with their families, represented the following cities: Albany, Athens, Atlanta, Augusta, Brunswick, Canton, Carrollton, Cleveland, College Park, Columbus, Cumming, Dallas, Gainesville, Griffin, LaGrange, Macon, Marietta, Milledgeville, Newnan, Norcross, Rome, Savannah, Statesboro, Tucker, Warner Robins, and Waycross.  For more information on the Roosevelt Warms Springs (RWS) Comprehensive Rehabilitation Center, go here.
Media Contact: Carla Murphy, Director of Communications/Public Affairs Officer, [email protected]