:
Prospective and New Client Orientation every Wednesday
Join us for our 12:00 pm or 6:30 pm session. Family members are welcome, and CART is provided. 
What Happens After the Game
52f50d32d85583213c8a4bac4c7f291b_crop_north.jpg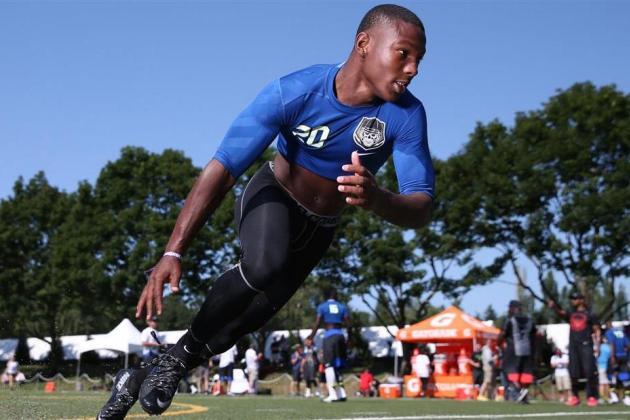 Mecole Hardman is a popular man with the kids at Friends Helping Friends, but it's not for the reasons one would think. They don't care that he can run a 4.42 second forty-yard dash. They don't care that he played in the U.S. Army All-American Bowl, and they don't care that he's been described as the top athlete in this year's recruiting class.
They just like that he's nice and fun to be around, and for them, that's enough.
Hardman, now a senior at Elbert County Comprehensive High School (ECCHS), has been a volunteer with Friends Helping Friends (FHF), a peer support group for students with disabilities, since 2010. That was years before he would travel across the country visiting—and being wooed—by some of the major powerhouses in Division I college football. Oregon. Ohio State. Michigan. Miami. Alabama. The University of Georgia.
Growing up less than 50 miles from campus, Hardman seemed like a natural fit for UGA, so when he committed to the school in early February of this year, the hoopla surrounding his decision didn't surprise anyone. But it didn't go to his head. After all, he said, his true passion was the kids of FHF, and where others might draw inspiration from a 5'10" 175lb rural Georgia man ascending to the heights of collegiate stardom before he even played a down, Hardman draws his own inspiration from the students.
"It's just fun to be around all of them," Hardman said. "People say life is hard, but looking at these kids, it's like dang, if they can do it, so can I."
Since his eighth-grade year, Hardman has accompanied nearly all of the 200 students with disabilities in Friend's Helping Friend's on field trips across the southeast. They've gone to Braves games. They've gone to the Georgia Aquarium. They've visited pumpkin patches in North Georgia, and they've visited the Greenville Zoo across the state line in South Carolina. The goal of the program, said FHF Founder Sandy Adams, is to provide social and educational opportunities for the students that they wouldn't normally have. Mecole, she said, as well as the 300 other middle and high school volunteers, take the time to travel with the students and make sure they have the best experience possible.
To the students, Adams said, it doesn't matter if you're a star athlete on the verge of your freshman year of college or the President of the United States. All they care about, she said, is that you're their friend.
"They don't know what Mecole is about to become," Adams said. "You can tell who they like, and they're drawn to him because he's so kind and genuine, and that's what makes him so special."