:
Prospective and New Client Orientation every Wednesday
Join us for our 12:00 pm or 6:30 pm session. Family members are welcome, and CART is provided. 
Sharing Lessons Learned
large_12495122_10156619206865408_8335514916161036781_n.jpg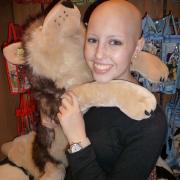 When Kennedy Cobble was 14, she was diagnosed with bone cancer. That same year—2006—her tailbone was removed, and a series of reconstructive surgeries soon followed. The treatments were a success until they weren't, remission followed by reemergence of the disease followed by treatment followed by remission. On the whole, she would be diagnosed and beat cancer four separate times, the disease and the treatments ultimately leaving her partially paralyzed in both of her feet. She spent her early high school years in and out of hospitals and in physical therapy learning how to walk again.
Because she couldn't attend school, school came to her, teachers huddled by her hospital bed going through the day's lessons. Their efforts to help her keep up with her classmates didn't go unnoticed. Instead, they would prove to shape much of what came next.
In August of 2018, 12 years after her initial diagnosis, Kennedy welcomed her first students to her classroom at Cedar Hill Elementary School. Several months before that, she graduated from the University of North Georgia with a degree in education. Neither of these things would've happened had she not first seen the dedication of the educators in her life, she said, their kindness and passion pushing her to follow their path.
"They gave me a lot of support and help and were there for me. They made me realize I could do that as well and help other students that way," Kennedy said. "I love kids, and I love how honest they are and how sweet they can be. But it was my teachers who inspired me to go into education."
It wasn't as easy as deciding to become a teacher and then doing it, though. While Kennedy did eventually learn to walk again, the lingering medical complications from her treatments and the disease itself prevented her from driving. For years, she relied on friends and family to take her where she needed to go, and while she appreciated their generosity, it was limiting, she said.
"I felt very trapped," she said. "It was hard. I felt very guilty having to rely on them so much."
It was during this time that she first learned about GVRA, and working with her counselor, she discovered that by using hand controls, she would be able to drive again. GVRA purchased her the necessary equipment to make this a reality. This was a turning point, she said, an opportunity to live independently.
"I know it definitely boosted my confidence and made me feel free. I finally felt like an adult. I didn't have to rely on my little sister to take me places. I finally felt free and felt that I could do what I want and go where I want. The sense of freedom was incredible."
In the end, she said, it was one of many obstacles she needed to overcome in her life. After everything that has happened to her, she's pretty good at overcoming obstacles, and this is a lesson she's definitely going to pass on.
"Perseverance has become my motto, and it's definitely something I'm going to put in my kids' heads," Kennedy said. "You work hard and keep going, and you are going to succeed."