:
Prospective and New Client Orientation every Wednesday
Join us for our 12:00 pm or 6:30 pm session. Family members are welcome, and CART is provided. 
Overcoming Doubt to Showcase Ability
gorodon-mitchell-photo.png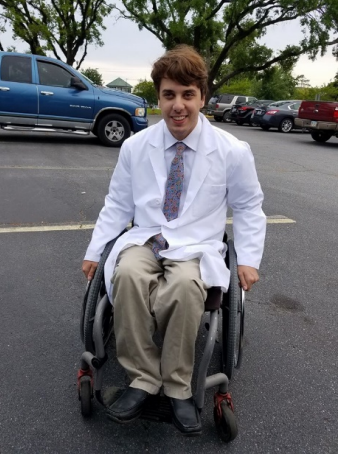 Gordon Mitchell is used to facing tough challenges that could threaten his success if he weren't a fighter. Gordon has cerebral palsy has always had to be conscious about what he eats and when. This experience prompted him to become a dietitian. Gordon's journey began with his pursuit of a bachelor's degree in Dietetics. While working on his degree, Gordon was discouraged by a faculty member who doubted his ability to participate in the Didactic program due to limitations associated with his disability. Gordon did not allow those misguided comments to stop him from moving forward. He says, "People with disabilities have unique situations and require a conscious and educated understanding of their diet and overall wellbeing, more so than our able-bodied peers." Gordon went on to complete the program, earn his degree and prepare to become a registered dietitian.
One of the steps to becoming a Registered Dietitian is successfully completing an accredited didactic internship, securing one requires relevant experience. Like many recent college grads, Gordon struggled to get his first role. He applied to clinic after clinic and could not find one who was willing to hire him. Gordon pressed on. He continued to work with his Employment Consultant, Cassandra Coley, to identify new opportunities and potential options to secure an internship and/or relevant role. Finally, they found The Dialysis Clinic in Albany, who partnered with GVRA to provide a Community Work Adjustment Training (CWAT) role to Gordon. This partnership not only helped Gordon get closer to becoming a Registered Dietitian it also helped the staff at the Dialysis Clinic get excited about working with individuals with disabilities.
Gordon will complete his CWAT at the end of May and then begin studying for the Dietetic Technician's exam. He is excited about the experience and the prospect of moving forward. He says, "I hope my situation allows me to reach out to relate to healthy individuals who have a disability, as well as those whose newly acquired disabilities have brought about major life changes. I am truly thankful to the Dialysis Clinic for allowing me this opportunity."