:
Prospective and New Client Orientation every Wednesday
Join us for our 12:00 pm or 6:30 pm session. Family members are welcome, and CART is provided. 
Figuring it Out
phone girl.png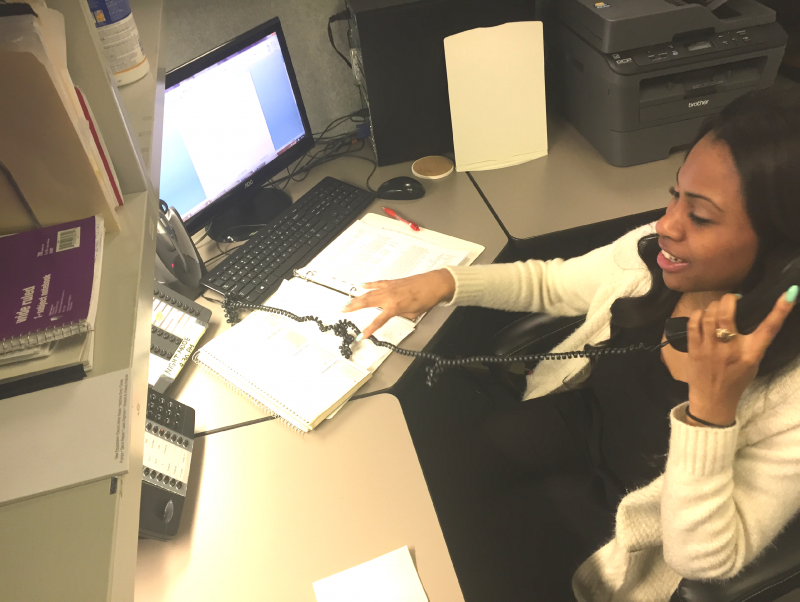 Kimberly Blue is an administrative assistant at Cole Electric in Atlanta, a position she's held for more than four months. Her job duties are typical for the position: making copies, organizing paperwork and, largely, answering and transferring phone calls. This wouldn't have been a job Kimberly could have held prior to her time with Vocational Rehabilitation.
Kimberly has a significant hearing loss, but she wasn't going to let that get in the way of finding meaningful employment.
Her career journey started well before her position at Cole Electric. In 2010, preparing to go to college, she knew she needed help and reached out to VR. Over the next five years, she stayed in regular contact with her VR counselor, and VR paid her way through Valdosta State University in addition to hearing aids. But it wasn't until after her graduation in 2015 that she saw how VR could help her find a job.
"The ultimate goal is to find a job, and that's what they do," Kimberly said. "They don't stop until they place you. They kept sending me job opportunities, and I kept getting interviews, and eventually, I was hired."
Ultimately, Kimberly said she'd like to become an executive administrative assistant, a position she first learned about when she was interning with the Atlanta Police Department.
"I saw it done when I was doing my internship, and I thought 'I can do that.'"
Perhaps the most Unexpected outcome from her time at VR came last month when she met with Rehabilitation Services Administration Commissioner Janet LaBreck.
"It was really an honor," Kimberly said. "I can't thank VR enough for what they've done."