:
Prospective and New Client Orientation every Wednesday
Join us for our 12:00 pm or 6:30 pm session. Family members are welcome, and CART is provided. 
Cracking the Code to Success: A Conversation with Susan Jolly
Susan Jolly is the Chief of Staff for the VP of the Digital Services Group at T-Mobile. She's also a technologist, mentor, and mother who's spent her career as an individual with a disability. After sustaining life-changing injuries during college, Susan spent 11 years investing in herself and finishing her degree. Since then, she's moved across the country, raised a son, and built a successful career in technology. Like many, her journey is riddled with challenges and successes. At every turn, she focused on what is possible, rather than what is difficult. Now, she's got a bit of advice for those building careers amid adversity.
sj-tmobile.png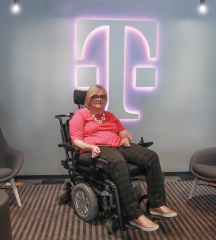 What do you do?
I serve as the Chief of Staff for the VP of the Digital Services Group. My team supports the Design Services Intake and Innovation (DSI2) and Business Management Operations (BMO) teams respectively. The DSI2 assesses how much work is involved in completing certain tasks. We complete high level designs that become proof of concepts that eventually become real products. The BMO involves managing a budget of more than $110M and supporting several vendors.
Susan's Pro-tip: Define Your 'Brand' and Be it: For example, I am a trusted leader who can drive results and deliver solutions while enabling others to reach their full potential. I live, breathe, eat, and sleep this so when people meet me it comes across.
What advice would you give those who are just starting out in their career?
The first thing you need to do is set goals, and not just goals for your career. Set your goals for what you're going to do in different aspects of your life. There's a tool that I like to use called Wheel of Life and you can type it on Google and find that tool. Do a self-evaluation on different aspects of your life—your financials, your physical environment and you rate yourself on your family relationships and then come up with goals; short, medium and long-term goals around each of those.
Susan's Pro-tip: Reward yourself: When you accomplish goals, give yourself a little something for your trouble. It may be a dinner out early in your career… and later a multi-state road trip during vacation. This will keep you motivated and focused on the next step.
What has been most critical to your success?
I always felt like I had more to prove and I never wanted anybody to question my ability to do the job, whether I was disabled or not. And I knew that I was being compared to people who were not disabled so I didn't work just forty hours a week. I worked—in the early days—60 to 80 hours a week, and I did that for many years. I made a choice to sacrifice and invest the sweat equity to get where I am in my career.
Susan's Pro-tip: Leverage Sweat Equity: Volunteer to fill in gaps others aren't filling. Doing so strategically will not only demonstrate your unique value, but also show your willingness to contribute to the overall success of the team/organization.
How do you deal with setbacks?
I recently read a book last year called The Obstacle is The Way, and it really reminded me how to use the obstacles put before you to solve problems. It's a really good book, and I recommend that you read that to kind of think through how can I use the obstacles that I have to help me be better in my career.
Pro-tip: Use Motivational Books to Refocus: when negative thoughts enter your mind read/listen to good books to help reinforce success (i.e. Obstacle is the Way, Girl Wash your Face, Be So Good They Can't Ignore You)
To learn more about Susan and her work at T-Mobile, watch our video highlighting her story.