:
Prospective and New Client Orientation every Wednesday
Join us for our 12:00 pm or 6:30 pm session. Family members are welcome, and CART is provided. 
1,684 Miles, a Computer and a Job
hernando.png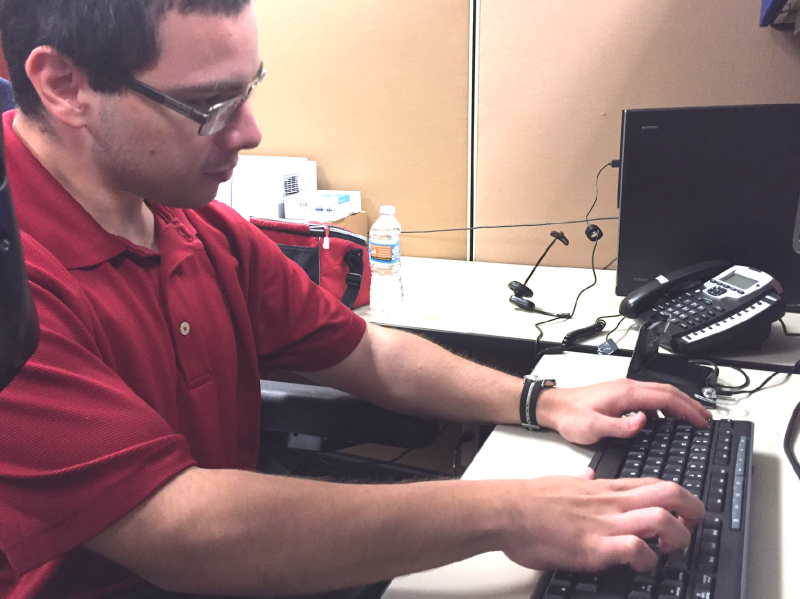 Hernando DelaCruz was born in Barranquilla, Colombia, a city in the northwest corner of the country and near the Caribbean Sea. That's where his journey started. Seven years removed and 1,684 miles away from Barranquilla, DelaCruz has made a new home in Georgia's capitol city.
Like all journeys, this one had its share of unique challenges. DelaCruz was born with cerebral palsy, a permanent movement disorder that can lead to problems with muscle control, but he knew one surefire way to continue along his path toward where he wanted to go: knowledge.
He first attending classes in information system Technologies in Colombia, where the stigma surrounding disability made it difficult to find a career in the field he was so passionate about.
So he moved. He had family in Athens, and in 2009—hardly speaking any English—he relocated there.
Language was going to be another hurdle, but to Delacruz, it was a question with an answer with which he was already familiar. To overcome adversity, he would use his knowledge.
He taught himself English using Rosetta Stone software, and then the job hunt began. But because his classes in Colombia didn't translate to similar classes in the states, he needed help. That's where VR came in. Working with a team of counselors in Athens, it was agreed that he should attend Roosevelt Warm Springs (RWS). There, he thrived, interning in the campus' IT department and proving that his skills translated well from one continent to the next.
He graduated from RWS in April of 2014, and the job hunt continued. Then, more than a year later, his Counselor, at this point Richard Smith, suggested he start applying for IT jobs with the state. And it worked.
As fate would have it, his timing couldn't have been better. GVRA was in the process of building out its own IT department, and he had the knowledge and the skills to make a positive impact on the team.
He began work at the agency's administrative office in Atlanta, and he's been a quick study.
"It was hard. It was hard work," DelaCruz said. "But I knew that my knowledge was good and would get me where I wanted to go."